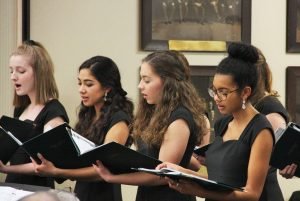 Joel Christian Gill believes that racism is dead—though not in the sense that it is gone.
Rather, he believes that it has woven itself into the fabric of American life. He said it's seen when the country elects its first black president and then questions whether he was born in this country. It's seen when the passing of Muhammed Ali is honored, followed by an attempt to ban the religion be practiced from entering this country. It's seen when African-Americans make up 15 percent of the population, but are 40 percent of those incarcerated in prisons.
However, small cracks can be found here and there, such as when Dr. Martin Luther King, Jr. led a bus boycott at the age of 27 that lasted over a year.
"King fought for equality and breaking down barriers," said Gill, the keynote speaker at the 33rd commemoration for Dr. King held on Monday at St. Mary's in Norton.
The ceremony was organized by the Rev. Dr. Martin Luther King, Jr. Memorial Committee of Greater Attleboro. It included a number of speakers, as well as soloist Lisa Stevenson of Fruit of the Spirit Mission Church and hip-hop violinist Big Lux. Both gave spirited and impassioned performances, and the speakers said that the fight for equality was not over. The Rev. Doug Bixby of Evangelical Covenant Church said people should give thanks for the sacrifice that Dr. King made, and honor it with the resolve to end racism.
"Diversity is a gift and a strength," said Bixby. "True unity exists with diversity."
As part of the ceremony, a second one was held earlier that day at Attleboro City Hall, where a number of state and local legislators spoke to King's legacy and impact on society. State Sen. Paul Feeney said that people must commit themselves to a better future, that the choices made today dictate tomorrow. He said Dr. King taught the world that a vote was a voice and his movement was one of equality and hope.
"Live each moment in a way that strengthens the movement," said Feeney.
State Rep. Betty Poirier said it was all about dedication, knowing what is right and always doing it. She told those in attendance that Dr. King's famous quote "I have a dream" came from the heart. She said the passion in his voice makes one feel that he is there. Poirier said this world isn't perfect, but King's example shows that working together, things can become better.
"I'd like to think we're getting there," she said.
State Sen. Becca Rausch said that one individual can make a change for equality and asked the audience what kind of change they would make. She said roadblocks still exist, whether in the form of violence and poverty or being stopped from getting on the ballot.
"We can't let current events discourage us," said Rausch. "We have so much work to do."
Gill said that people are more connected than they are separated. He told the audience to share their strength and humanity.
"And when all else fails, hug somebody," he said. "Because that always helps."