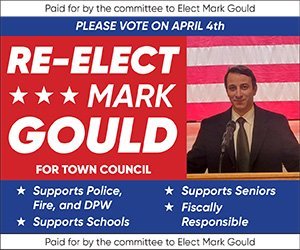 By Max Bowen-max.bowen@northstarreporter.com
Citing a passion for the town and a lifetime of learning, Town Council members were unanimous in their vote to appoint Michael Borg as the next Town Manager, pending successful contract negotiations.
Borg, a retired U.S. Army Colonel who now serves as Director of Public Property and Capital Improvement for Providence, R.I., received strong praise from the council at its meeting on Tuesday, Jan. 7. Councilor John Simmons said Borg has "an unbelievable record of leading men and women," and one could see progress in every step of his career. Following his time in the Army, Borg began working for Providence as the Director of Emergency Management in 2015, and became Director of Public Works a year later.
"You don't rise to the level he did without being a good leader," said Simmons. "His energy and passion just shows through with every answer he gave."
Interviews with Borg and Christopher Clark, the other finalist, took place on Monday and Tuesday of this week. Arlington Town Manager Adam Chapdelaine was also a finalist, but withdrew last week, citing a desire to remain in his current role.
In the interviews, Borg described himself as a "up front, out front, muddy boots kind of leader." He believes that municipal government is a team sport and his approach is to learn every member's strengths and weaknesses and help them learn from mistakes.
"Give teammates the responsibility," he said on Monday. "You'll be surprised what they can do."
Borg added that he feels his skills learned in the military are of use in municipal government, and would want to draft a 90-day transition plan and get to know everyone in North Attleborough.
"I want to understand where the town plan is and where it is going," he said. "I think it's important to see where we are at."
Councilor Michael Lennox said both candidates brought great qualifications to the table. Clark, Town Administrator for the Town of Harwich, has worked in a number of other communities, including Southbridge, Wellesley, Walpole, and Vernon, Conn. Councilor Adam Scanlon was initially in favor of Clark, that his desire to work in government at a young age resonated, and that his being mentored by so many was a strength.
"He knows about the Massachusetts issues because he's worked with those," said Scanlon. "Overall, I think he's a leader who would be committed."
Councilor Justin Pare was on the fence initially, but later cast his vote for Borg. He said both candidates had great skills and backgrounds. He was concerned that Borg may still need some learning on the job, while Clark had the experience needed for the town manager role. Council President Keith Lapointe said that Borg has run departments in Providence that are larger than those in North Attleborough, and believes his skills in the Armed Forces can be a benefit in the town manager role.
"This town is in the middle of change and I think Mr. Borg is a change agent," he said.