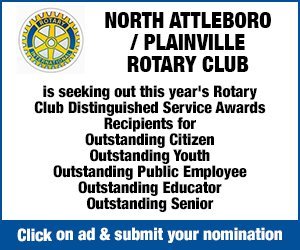 Below is an excerpt from Hockomock Sports' recaps of games from the past week involving North Attleborough teams, as well as Bishop Feehan. For more information, visit hockomocksports.com.
Have a game result that we didn't run? E-mail editor Max Bowen at max.bowen@northstarreporter.com. Photo submissions are also welcome.
Saturday, Dec. 21
Boys Hockey
North Attleborough, 5 at Bishop Feehan, 4—Matt McSweeney scored twice, including the eventual game-winner, and goalie Nick Digiacomo had a strong game in between the pipes to help the Rocketeers beat their rivals.
Wrestling
North Attleborough picked up a win over Chariho (RI) but suffered setbacks to both Norton and Hope (RI) in the Rocketeers' first quad of the season.
Friday, Dec. 20
Boys Basketball
North Attleborough, 49 at Oliver Ames, 59—Oliver Ames held a double-digit lead in the first half but had to erase a double-digit deficit in the second half to earn a win over the Rocketeers.
Girls Basketball
Oliver Ames, 59 at North Attleborough, 34—Oliver Ames used a big second quarter to get separation on North, outscoring the Rocketeers 23-9 to build a 16-point lead at halftime and a 24-point lead heading into the fourth.
Girls Hockey
Mansfield/Oliver Ames, 9 at Bishop Feehan, 0 –The Warriors exploded for five goals in the second period to skate to a win over Bishop Feehan, who is in their first year at the varsity level. Freshman Reese Pereira scored a pair of second period goals for MOA.
Boys Indoor Track
Milford, 50 vs. North Attleborough, 49
Girls Indoor Track
Milford, 36 vs. North Attleborough, 64
Girls Gymnastics
North Attleboro, 138.35 at Franklin, 133.20—Franklin sophomore Kate Rudolph was the top Panther in all four events and won the All Around but the Rocketeers picked up a close win in the meet.
Thursday, Dec. 19
Boys Swimming
North Attleboro, 65 at Milford, 82
Girls Swimming
North Attleboro, 76 at Milford, 86
Wednesday, Dec. 18
Boys Basketball
North Attleborough, 43 at Stoughton, 72—Holding a 31-24 lead at halftime, Stoughton exploded for 26 points in the third quarter to run away with a win at home.
Girls Basketball
Stoughton, 37 at North Attleborough, 64—The Rocketeers jumped out to 36-16 halftime lead and secured their first win under head coach Nikki Correia.
Boys Hockey
Mansfield, 1 at Bishop Feehan, 4
Oliver Ames, 1 at North Attleborough, 1—North Attleborough scored first, but Oliver Ames answered as the teams skated to a tie in non-league action.
Monday, Dec. 16
Boys Hockey
King Philip, 4 vs. Bishop Feehan, 1—After falling behind in the first period on a penalty shot, King Philip scored four unanswered goals to knock off Bishop Feehan.
Saturday, Dec. 14
Boys Hockey
North Attleboro, 5 vs. Smithfield (R.I.), 3
Wrestling
North Attleborough earned 106.5 points to take eighth place overall at the Ashland Early Bird Tournament.
Friday, Dec. 13
Boys Basketball
Taunton, 55 at North Attleboro, 57–North Attleborough junior Edan Kelley drained the go-ahead three with less than 30 seconds to play and the Rocketeers got a final defensive stop to complete a comeback win over visiting Taunton.
Girls Basketball
North Attleborough, 36 at Taunton, 42–Freshman Kameron St. Pierre scored a team-high 12 points in her first varsity game to help Amy Siggens earn a win on her Taunton coaching debut.