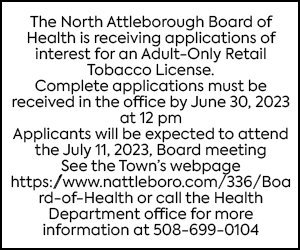 The Friends of the North Attleborough Council on Aging wish to thank all of the volunteers and attendees of our Holiday Bazaar on Nov. 16.
We are especially grateful for the businesses and friends who donated to our raffles and sales.
They are our greatest supporters on whom we depend.
Thank you to following – Total Image Hair Salon & DiMare Skincare, North Attleboro Liquor World, The Chieftain Pub & Restaurant, Don's Diner, New Balance, Simon Management -Wrentham Outlets, Tom Secky Insurance, Barrett's Ale House, Anonymous RI Co., W.R. Sharples, Pleasant Printing, The Right Touch, Out On A Limb Tree Co., Anonymous, Massage Envy, Wamsutta Residents Association, Bliss Brothers Dairy, IHOP, Panera Bread, Cracker Barrel, KC's Burger Bar, Bass Pro, Dyer Lake Funeral Home, CBS Sporting Club Restaurant, Shaws Supermarket, Yarn It All, Dermatology Professionals LLC, An Unlikely Story, Dr. Barone DDS, Bella Capelli, Dunkin Donuts, Oven Essence, Elegant Nails, Shell Gas, Speedway Gas, Stop & Shop, Pizzaria Romana, Butler Tire, CVS, Target, Mobil Gas, Olive Garden, Dollars N' Deals, Pam Hunt, Anne Lonzo, Jenn Bousquet, Jane Hutchins, Pam Woodie, Jeanine Cavanaugh, Ann Marie Letourneau and Julia Wheatley. A special thank you to The Branches for their support of our group.
We look forward to another successful bazaar next year. Many thanks again!
With appreciation, Sandy Mann, President, Friends of NACOA