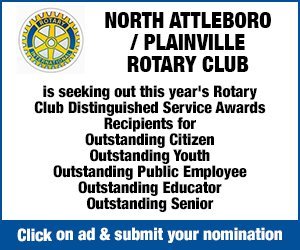 By Max Bowen
max.bowen@northstarreporter.com
Heroes come in all shapes and sizes.
On Monday, North Attleborough thanked not only those who have served in the Armed Forces, but those that support them and share in their sacrifice. Gary Zimmer, who served for 20 years, said his heroes include the families of veterans, who give their all and sometimes suffer the loss of loved ones.
"The support of our veterans is a constant," said Zimmer.
Town Council President Keith Lapointe recalled a time at the airport when veterans were thanked as the passengers boarded. While a nice gesture, he felt the words need to go deeper than that.
"We need to understand what we're saying," he said.
State Rep. Betty Poirier shared the story of Deborah Sampson, who served in the Revolutionary War in 1782 disguised as a man and going under the name Robert Shirtliff. While in the army, she stormed a British redoubt, fought at the Siege of Yorktown, and tended her own wounds to keep her identity a secret. But when an illness left her unable to move under her own power, she was treated by doctors and her true identity revealed. In 1783 she was honorably discharged and in 1983, May 23 was named Deborah Sampson Day in Massachusetts.
"Such a remarkable story," said Poirier. "Thank you all for doing the same."