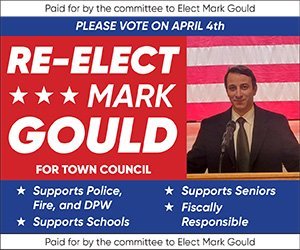 By Max Bowen
max.bowen@northstarreporter.com
A blend of residents and town officials have been selected for the Town Manager Screening Committee.
At the Town Council meeting on Monday, Oct. 28, Council President Keith Lapointe announced the appointments, chosen from more than 30 interested parties.
"It's a really impressive selection of folks," he said. "A real cross-section of the community."
The members of the new committee are:
Police Chief John Reilly

School Superintendent Scott Holcomb

Planning Board Chair Marie Clarner

Joe McConville—retired Pricewaterhouse Coopers Partner

Ben Chalot—Brown University's Masters in Public Affairs program

Greg Weishaar—HR and Executive Recruiting professional

Christine Mello-Blonay—Market executive
Lapointe mentioned that Mello-Blonay has only lived in town for two years, and that the members have a range of experience and perspectives.
"I deliberately chose folks who were out in the community," said Lapointe.
The committee will begin meeting on Nov. 21, and will have some days prior to review resumes with members of Community Paradigm Associates. Lapointe said the meetings will be held in open session at first to organize,. After Lapointe speaks with them, they will go into Executive Session. Postings have been made for the Town Manager position.