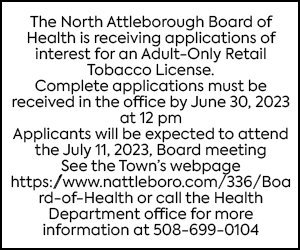 By Max Bowen
max.bowen@northstarreporter.com
Mothers, fathers, and spouses applauded 11 members of the North Attleborough Fire Department at a swearing in ceremony.
The fire chief, deputy chief, two lieutenants, and seven firefighters received their badges at the ceremony, held on Tuesday, Oct. 22. Dep. Chief James Puleo of Mansfield Fire was the guest speaker for the event, said that service is the most common denominator as to why firefighters do their job in face of great danger.
"We as a group endeavor to serve," he said.
To the firefighters, Puleo said they are the backbone of the department. To the captains and lieutenants, he said they are the support network, and encouraged them to help those under their command to learn all they could. To the chiefs and deputy chiefs, Puleo reminded them to "Say what you will do, and do what you say."
For those friends and family in attendance, Puleo welcomed them to a larger family.
"There will be stories, lots and lots of stories," he said.
Town Council President Keith Lapointe said his son often asked for a fire engine cake on his birthday, which spoke to the impact the department has had over the years.
"The community hurts when you hurt," he said. "When you are sad, we are sad for you."
Along with the pinning of the badges, service awards were given out for those that had been with the department for 20, 25, and 30 years. Among those was a 30-year award given to Cameren Cornetta in honor of his father, Firefighter Chris Cornetta, who passed away in March.