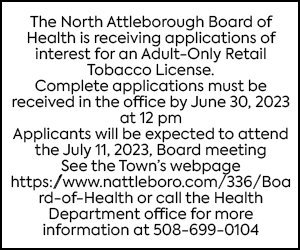 By Max Bowen




max.bowen@northstarreporter.com
Michael Gallagher, who has served as Town Administrator and Acting Town Manager for the last four years, has announced that he will not seek the permanent position of Town Manager.
Gallagher informed the Town Council of his decision on Monday, and has spoken to department heads and his staff as well. Town Council President Keith Lapointe said that an Agreement in Principal has been discussed, through which Gallagher would remain with the town until next June. This agreement will need to be voted on at the council meeting on Nov. 13.
"Mike has been instrumental with a lot of the progress that has been made in North Attleborough over the last few years," said Lapointe. "Mike has been connected to our driving through a lot of the big things that happened."
Lapointe said that Gallagher remaining on would help ensure a smooth, productive transition to the next Town Manager.
"I appreciate Mr. Gallagher's willingness to stay on to help support the transition.," said Lapointe in a written statement. "And I am optimistic that potential candidates will feel confident applying for the role, knowing there is not an incumbent competing for the role."
Gallagher said he had been giving the matter a great deal of thought and discussed it with his family and confidantes, and ultimately decided that it was time for something different. He joked that retirement was not going to happen.
"For the good of the community and next phase, it's time for me to step aside and let someone else take the reins and take things to the next level," he said on Wednesday.
Gallagher added that doing this would help with the recruitment process, as potential applicants may not seek the role if they know that an incumbent is going for it. Community Paradigm Associates is working with the town on the application process and will collaborate with the Town Manager Screening Committee. He said that staying on will allow him to work on the next budget, determine Free Cash, and help any long-term projects continue smoothly.
"It's an opportune time to do it and let CPA sell the position better," he said.
Gallagher came to North Attleborough four years ago, and prior to this was the Weymouth Deputy Mayor's Chief of Staff. He worked in the private sector for 38 years, as IT manager for the Boston Globe, New York Times, and Fidelity. He said that working in local government was not something he planned, but has enjoyed the experience. When asked on some of the highlights of his time in North Attleborough, he cited the passage of the Proposition 2/12 override, the new Town Charter, and the commitment that town government has shown to economic development, rather than just cutting budgets.
"Some of the transparency we added has been very beneficial," said Gallagher.