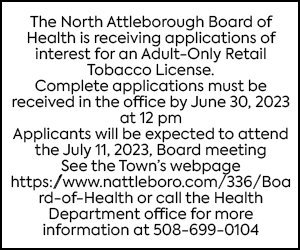 LETTERS TO THE EDITOR

Gratitude to those who supported the Day of Caring
On behalf of Ann Marie Fleming, the North Attleborough Board of Health and myself, please accept our sincere thank you and gratitude for to all who came and participated in our "Day of Caring", on Sept. 21, and donated food supplies to "Lenore's Pantry" to share with those who are struggling to provide for themselves as well as their families.
Again this year, as in the past years, the individuals in our community have again come together to assist individuals/families in need. We were truly fortunate again receive such a wonderful response from our community being able to fill the huge front loader a multitude of times. I cannot begin to express my gratitude. I would like to sincerely thank the football players and the cheerleaders, along with their families, and you, as members of the community, for your extreme generosity.
I would also like to thank Michelle Trimbach (from North Attleborough Junior Football) and Don Cerone (who donated the front end loader) for their partnership; without their assistance this large feat would not have been possible.
For those who were not able to attend or participate, during our Day of Caring, but are still interested in assisting, please know that donations and contributions are always accepted at Lenore's Pantry (located in the lower level of the North Attleborough Town Hall).
I am constantly amazed and continuously grateful for the kindness and generosity for the people in our community from the people in our community.
My sincerest thank you, Betty Poirier
Library book sale a huge success
The Friends of Richards Memorial Library wish to thank our community for the incredible support at our Fall Book Sale, Sept. 26-28 at our new location, the Allen Avenue School at 290 Allen Avenue, North Attleborough.
Funds from the Book Sale support many programs at the library for children and adults including the museum passes. These are available for checkout and are free or at a reduced rate, which include: Boston Children's Museum, Isabella Stewart Gardner Museum, Museum of Fine Arts, Museum of Science, New England Aquarium, Providence Children's Museum, Resources for RI Education (RRIE), and Roger Williams Park Zoo.
This year, in addition to the Book Sale, we had a silent auction for a wooden child's rocking horse (donated), a 50/50 raffle (a Lenore's Pantry ticket won and the other half of proceeds were unanimously donated to them as well) and a special raffle for an outstanding framed photograph by Mike Sleeper, 'View from Gurnet Creek', (donated) which is located near Duxbury.
We wish to thank the following businesses for the gift cards/certificates we used in our raffle that were donated by: Stop and Shop in Plainville, Bliss Bros., Black Opal Florist, North End Deli, Yarn it All, Briggs and Altitude Trampoline Park. Colonial Tire in Plainville made a very generous donation to the Friends.
Gift Cards and Certificates donated by individuals on the RML Friends Board: Northworks, Dunkin' Donuts, TJ Maxx, Showcase Cinema, and Trader Joe's.
Donated items: Hand-made Scarf, Hand-made Shawl, Razor Scooter, Scardy Cats 300 Piece Puzzle, Handmade Kitchen Towels and Microwave Pot Holders, Jumbo Portapuzzle, Autographed Copy of Marty Pants, Keep Your Paws Off!, by Mark Parisi, Cribbage Board, Heavy Duty Tote Bag, "Frozen" Gift Basket, "Fancy Nancy" Gift Basket, Cape Cod Books Gift Basket and Framed Print, and a Glass Bead Necklace and Bracelet Set.
Because we now have the extra space, in addition to the Book Sale, we ran a Children's Activity Room where 40+ children of various ages, from 1-14, participated in four Community Service Projects. These were placemats (35) and cards (28) to color for Meals on Wheels, tied fleece toddler blankets (2) for Lenore's Pantry, tied fleece blankets (4) and Happy Socks (41) for the Animal Shelter. After completing these four activities, depending upon their abilities, all children earned a ticket coupon for a free book at the sale and a small box of goodies to take home with them.
Thanks to the generosity of many individuals who donated their gently used books, DVDs, CDs and more, we had a very successful Book Sale this year and are looking to hold another one before Christmas.
Thanks again to everyone on the Board of the Friends of Richards Memorial Library, Frank Ward, Director, Maggie Holmes, Reference Librarian and staff at the Library, and our volunteers who donated their time to help make this event a success!