Garden Club meets at Revolutionary War Garden 
Angle Tree Garden Club members gathered at the newly-renovated Revolutionary War Memorial Garden at the Routes 1 and 120 intersection—an authentic-looking flagpole, significant to the era, with a Betsy Ross flag is now up and looks great. President Janet Pion talked about the plantings and their relevance in the garden. It is one of several gardens maintained by ATGC. Then off to the Sweet Club House in Attleboro for the first meeting of the club's 2019-2020 season and a potluck lunch. There was a patriotic red, white, and blue theme; delicious flag cake made by Dianne McColgan, centerpiece by Carolyn Coulombre. 
Council honors First Baptist 250
th
anniversary
Some "fowl" play at Town Hall
Signs of the season
Touchdown for Huddle Up contest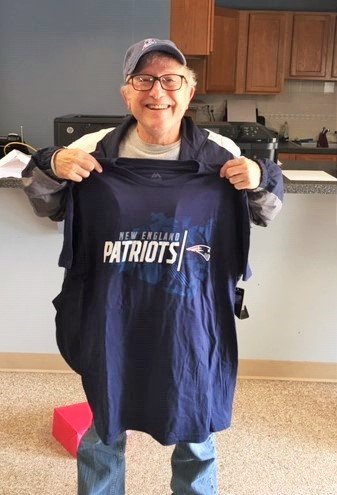 Go4Life Walk at NA Senior Center
There were 19 walkers that joined the annual Go4Life walk, 13 completed three miles and six completed one mile. After the walk they enjoyed a box lunch with music provided by the Unlikely Strummers and the Senior Center's very own Elm Street Strummers.  
Feehan Senior Named National Merit Semifinalist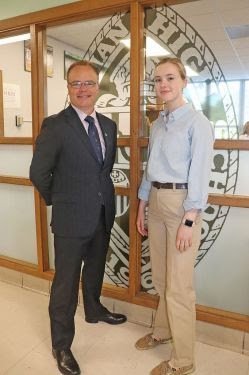 Bishop Feehan High School senior Audrey Bulger of North Easton has been named a National Merit Semifinalist. She was one of approximately 16,000 Semifinalists nationally in the 65th annual National Merit Scholarship Program.
Audrey scored in the top 1 percent on the PSAT and will continue in the competition for some 7,600 National Merit Scholarships. 
Woodworker discusses techniques at senior center
Lenny Butler, an award winning master woodworker, visited the North Attleboro Senior Center on Wednesday, Sept. 25, to display and discuss his latest creations, a Pennsylvania spice box and a wooden gift box. He explained the process he followed and some of the intricacies involved. At the end of his talk, he raffled off the gift box, which he estimated took about 20 hours to make. The bow on the gift box is also made out of wood.