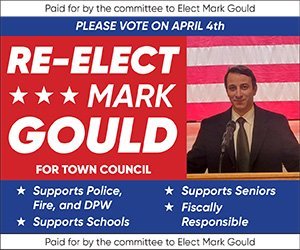 Always remembered
North Police Officer makes 100 miles in a day for fundraiser
North Attleborough Police Officer Tom Vigorito set a new personal best and supported his fellow first responders when he completed the 106-mile Ride To Remember.
Vigorito was among the 400 riders who took part in the annual fundraiser, a bicycle ride from Springfield to the State House in Boston. The memorial run has been held since 2013 to honor the state's fallen police and firefighters. He said it was his first time participating in the event, and his longest ride prior was 25 miles. 
He trained for this by riding often, but cited his mother-in-law as a great source of information and guidance. This year was her third time as part of a 100-plus mile ride.
"She does thousands of miles a season," said Vigorito. "She's the expert." 
The North Attleborough officer cited the many ways which the event supports the riders. Five rest stops were set up along the route with refreshments and massage chairs for those suffering from cramps. A van drove behind the riders to assist with on-the-spot repairs. 
Fellow officers provided a motorcycle escort for the riders, along with a and a State Police helicopter. The fans offered great morale support, cheering the riders as they went.
"They were holding signs and cheering you on," he said. "Pulling into Boston was wonderful, seeing all those people cheering you on."
Vigorito's bike is a Cannondale Synapse, which he's had for a few years and bought on the advice of a friend who works at Landry's Bicycles in Arlington. He said the design is perfect for such a ride, with a light carbon-fiber frame and two slots for water bottles. In addition, the jersey he received for the Ride to Remember has pouches to hold snacks to keep the energy up. Though challenging at times, he said the purpose helped keep him going.
"You keep the reason in your head," said Vigorito. "Honoring the fallen firefighters and officers that answered that call."