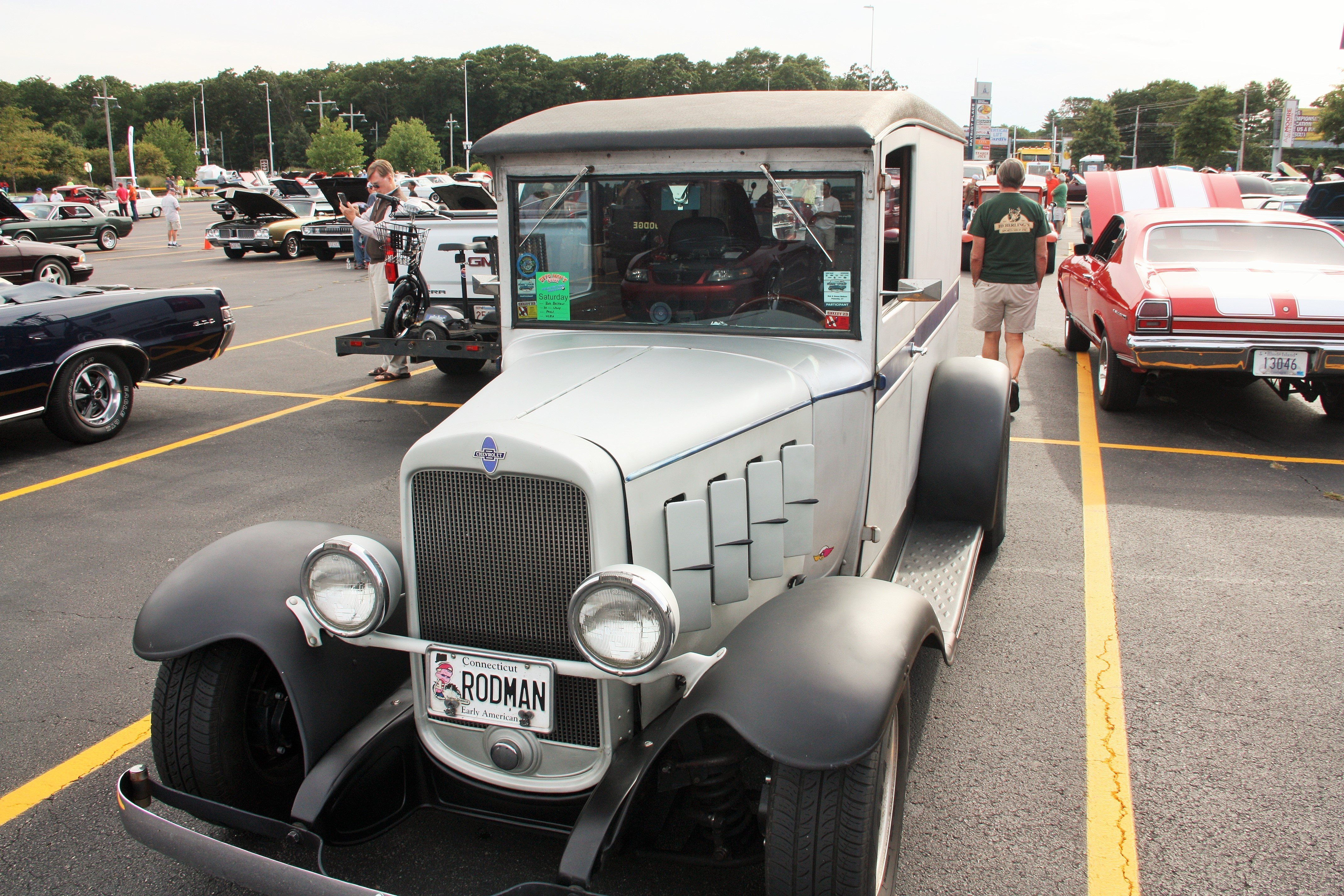 On the road again
Mass Cruisers' Cruise Night brings makes and models of all kinds 
From pickups from the 1930s to the latest version of the Dodge Challenger, this show has it all.
The Mass Cruisers' Cruise Night, which sees between 1,500-2,500 vehicles, was held at Patriot Place last Thursday. Many members of the group hail from North Attleborough, including Steve Vining, who photographs the events and runs the web site. He said the vehicles come from all over New England, and even once from Nova Scotia. Vining said the owner had been in New Hampshire and that family told them about the show.
"Whatever your hot rod is, you can bring it," said Vining, as he toured the grounds of the show, which took up three parking lots.
Porsches, Camaros, Mclarens, and much more filled the lots. Military vehicles were also on display, along with some vintage motorcycles. Members of the Red Devils and Old Koots car clubs were also in attendance. Vining said the vehicle doesn't need to be a classic model or particularly rare to be included in the show. Such was the case with Bill Davis, who brought his 2019 Dodge Challenger to the show. It had been modified with a shaker top, which makes the engine shake as the car runs. He joked that the Challenger had been a birthday present.
"It's got under 1,200 miles," he said.
Steve Huntington, the Cruise Night director, said the event has been held since 1994. It started in the parking lot of a restaurant in Walpole, eventually moving to the Bickford's in Sharon. Around 10 years ago, the group approached Bass Pro Shops in Foxboro, which allowed them to set up in the front parking lot. That space soon proved too small, and was moved to three of the outer lots.
In addition to showcasing all the vehicles Huntington said they hold a 50/50 raffle that has benefited a number of charities over the years.  
One of the more unique cars at the show was neither an antique, nor a newer model. David Morgan sat beside his Joker Gotham City Police Car, formerly a Crown Vic, on which he had spray-painted lines from the Batman comic series, added decals of characters, and even placed a life-sizes mannequin with a Joker mask in the backseat. On the dashboard are signatures from voice actors on "Batman: The Animated Series" and the Netflix show "Gotham." 
Morgan said the car is a favorite at comic-cons, and he's utilized it as a fundraising tool for cancer research.
"I'm running around and putting smiles on people's faces," he said.
For more information on the Mass Cruisers events, visit patriot-place.com/masscruisers/.