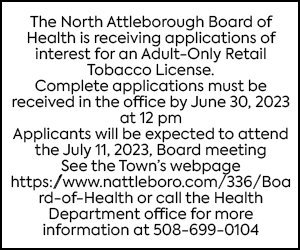 Family, friends come together for annual blood and food drive
It's a cause that helps both the sick and the hungry, a reflection of the generosity that Anne Havlin was known for.
This Thursday and Saturday, the Anne Havlin Memorial Blood & Food Drive will be held for the seventh year. Havlin passed away in Nov. 2012 from ovarian cancer, and her family organized the drive to benefit St. Anthony's Food Pantry, which she volunteered at, and the Kraft Family Blood Donor Center. During her time being treated at Dana Farber Cancer Institute and Brigham and Woman's Hospital, she received many blood transfusions. To date, 381 pints of blood have been donated through this drive. In addition, the event includes a raffle to support the research fund of Havlin's oncologist, Dr. Alexis Wright.
"It gave our father and my sisters something positive to do with our grief," said Molly Mills, one of Havlin's daughters and an organizer for the event.
The drive will be held on Sept. 12 and 14. The first drive will be held at Hockomock YMCA, which Mills and her husband both work at, and the second at Immaculate Conception Parish in Stoughton. This will be the first year that the drive will have two dates, done to accommodate the schedules of those who wish to donate and help the growing turnout.
In addition to the blood and food collection, there will be activities for the kids and live music on Saturday by The Echoes, a band which Mills' father plays in. Those that wish to donate blood cannot have done so less than eight weeks prior to the event.
The YMCA drive beneficiaries will be Kraft Family Blood Donor Center, Dana Farber Cancer Institute, and Community School Food Pantry. The drive in Stoughton will benefit the Kraft Donor Center, St. Anthony's Food Pantry, and Dr. Wright's research via a scratch ticket raffle.
Sept. 14 is Havlin's birthday, and the family wanted it not to be a day of sadness, but of good memories. She had been diagnosed three years prior to her passing, and doctors had not given a positive prognosis, said Mills. Throughout that time, Havlin continued to volunteer at the food pantry and work on projects around the house.
"She was a real DIY-er," Mills said.
The day before she passed away, the family held a Christmas celebration, which Mills said was a wonderful time with family and friends.
"We got three years with her," said Mills.
About the event
Thursday, Sept. 12, at 12–6 p.m.
Hockomock Area YMCA
300 Elmwood St., North Attleborough
Saturday, Sept. 14, at 7 a.m.– 2 p.m.
Immaculate Conception Parish
122 Canton St., Stoughton
To make an appointment to donate blood, email mollyanne.mills@gmail.com, or go to tinyurl.com/AnneNAtt2019.
Drop ins are welcome but appointments are highly recommended due to volume.