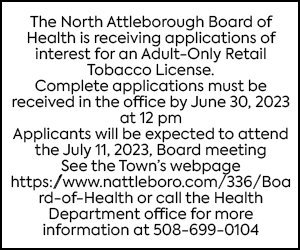 New bylaw aims to improve stormwater quality
Water, water, everywhere, and a lot of it in need of improvement.
At its most recent meeting, the Town Council reviewed a series of new regulations for stormwater management required throughout the state. These would be limited to projects with a land disturbance greater than 10,000 square feet but under half an acre, and those greater than half an acre. 
It's the size of the disturbance that determines what the proponent must do. For the projects with the smaller disturbed area, an administrative review would be needed—for the latter, a land disturbance permit is required. Improvements to the average single-family home [such as a new garage or swimming pool] would not require review under this bylaw. 
"If we adopt this bylaw, it'll put a lot of responsibility on the departments," said Councilor Adam Scanlon at the meeting on Monday, Aug. 26.
Phil Paradis, with the engineering firm BETA Group, explained that any drainage systems built before 1996 directly discharge pollutants, and that runoff degrades water resources every time it rains. Runoff can contain sand, salt, petroleum, fertilizers, and detergents from car washing. The more development, the greater the impervious surfaces and less vegetation, which leads to increased runoff. 
"It [stormwater] washes it [pollutants] right off the roads and into the water system, which discharges into the water of the United States," he said. 
Existing requirements for new development and redevelopment that disturb more than an acre and discharge into the municipal system is the implementation and enforcement of a program to address runoff and reduce pollutants. 
The new regulations call for stormwater management systems to remove 90 percent of total suspended solids over impervious surfaces, and 60 percent of the annual load of phosphorous. In addition, these systems must include plans to address Pollutants of Concern and construction sites need to be inspected for erosion controls. 
Paradis said what makes these new regulations needed in North Attleborough is that the town has some impaired waterways, such as Scotts Brook, the Sevenmile River, and Falls Pond.
"We decided more oversight is needed," said Paradis.
Town Planner Nancy Runkle said the town reviews all projects to make sure they adhere to the current stormwater regulations. An additional hearing is planned for Sept. 11. 
"Once this gets updated we'll go with that," she said. 
Shannon Palmer, the conservation administrator, said that the Conservation Commission is the designated authority for stormwater matters, and doesn't expect a lot of additional filings related to the regulations. Paradis also works for the Town of Westwood, which recently implemented a similar bylaw change, though the threshold was set at 5,000 square feet. 
"We had one or two a year of additional full-land disturbance permits," he said. "The rest were all administrative reviews."