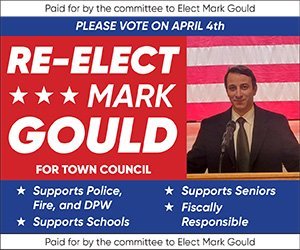 State aid drops
Decrease of nearly $300,000 impacts planned hires
A trend in local aid for the last few years is having significant repercussions for the town.
Town Manager Michael Gallagher said that Local Aid—allocated annually by the state government—will be $230,836 less than last fiscal year. Early reports from the governor's office showed that number increasing by 66,358. As the town had been operating under this assumption when crafting the budget, it brings the total impact to almost $300,000. 
Over the last three fiscal years, Gallagher said Local Aid has seen a decrease of more than $700,000.
"This particular trend needs to cease," he said at the Town Council's July 29 meeting. "I don't know how we do this."
Gallagher said a recent contract negotiation for property, casualty, and liability insurance yielded a savings of approximately $270,000. However, this savings is across two fiscal years, and the benefit to the next fiscal year will be only $125,000.  
"This should soften the blow, but I want to move cautiously to make sure we will be okay as we look to FY2021 and beyond," wrote Gallagher in a memo to the council. 
This still leaves a gap of approximately $237,000, and Gallagher said more changes will need to be made to the budget. Given this news, Gallagher said departments have opted to delay new hires. He said that an IT employee and part-time custodian position won't be filled for the time being. The police chief will be delaying a transition of a part-time position to full-time. 
Superintendent of Schools Scott Holcomb had planned to hire four technology coaches to work with staff to adjust to the new Chromebooks being used across most of the grade levels. Each position pays $50,000 a year, and the School Committee at its Aug. 5 meeting opted to hold off on the hires for the time being, though not take them off the table. 
"I want to err on the side of caution," said Gallagher.
Local Aid from the state includes Chapter 70 funds for the schools, which will see little increase over last fiscal year. Gallagher said the reimbursement the school district sees from what it is charged for charter school tuition is approximately $300,000. However, the amount paid by the district is $2.25 million. Recently, the Foxboro Charter School applied to increase its student enrollment, leading to an additional 300 students that could attend. Of the total students enrolled at the school, 10 percent come from North Attleborough. 
At the July 29 meeting, Councilor Adam Scanlon suggested writing a letter to the town's representatives in the State House to let them know the severity of the situation. Councilor Michael Lennox said he spoke to State Sen. Becca Rausch in April on this  subject. 
"We are not alone in this in any way shape or form—we are knee-deep in it," said Lennox. "This is not how you treat the municipalities that you serve. The money is being spent on other priorities."