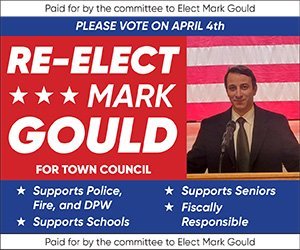 To submit an event listing for the Calendar section, e-mail max.bowen@northstarreporter.com.
Sunday, Aug. 11
The 13th annual Butterfly 5K will be held from 9 a.m.-12 p.m. at the WWI Memorial Park, 401 Elm St. All proceeds from the race will support The Julia Cekala Charitable Foundation. The ongoing mission of the foundation is the maintenance and expansion of "Julia's Garden and Playground" located at the WWI Memorial Park.
For more information and details please visit butterfly5k.com/index.html. 
Monday, Aug. 12
The Meghan K. Duffy Memorial Foundation will hold its Charity Golf and Tennis Tournament from 7:30 a.m.-3:30 p.m. 
Support this cause by playing or sponsoring so that the foundation can continue to fund local families facing childhood cancer, technology in local schools, and scholarships for deserving area students.
Tuesday, Aug. 13
The North Attleborough Cultural Council will present a free summer concert series at the Gazebo in Veterans Park on Tuesdays this summer at 6:30 p.m. The summer concert series, is made possible through the contributions of individual and business sponsors. Concert series fundraising is ongoing; please mail tax-deductible donations to NACC, P.O. Box 61, North Attleborough, MA 02760.

Smith and Weeden, underwritten by Downtown North Attleborough Businesses
facebook.com/smithandweeden
Smith and Weeden are a Rock & Roll Band from Providence. One could leave it at that, but it seems the confidence that comes with wearing such a badge is both rejuvenating and inspiring and worth a little more explanation. The songwriting is strong and the respect to those before them is apparent in the chemistry as well as the chorus you end up singing the rest of the week.  
Saturday, Aug. 17
The First Baptist Church of North Attleboro is celebrating 250 years with an Anniversary Dinner. On Saturday, Aug. 17, Tazz's BBQ will professionally prepare a North Carolina style BBQ dinner. Tazz is a licensed and insured caterer and owns a mobile catering company based in Taunton,MA.
Tazz will prepare the shoulders and chicken roast outdoors at the church. Also included will be BBQ beans, corn, macaroni salad, apple sauce, beverage and dessert. Take out orders will be available. Adult tickets are $18. Children 10 years old and under: $12. 3 years old and under are free. Reservations must be made. Seating is limited. Dinner is served at 4 p.m.
Tickets can be purchased by Aug. 10 at the church on Saturdays from 9 a.m. until noon starting Saturday, June 29. The church is located on the Baptist Common at Park and North Washington streets in North Attleborough. Checks, made out to First Baptist Church of No. Attleboro with "BBQ" in the memo line, are accepted and may be mailed to First Baptist Church, 75 Park St., No. Attleboro, MA 02760. For assistance call 508-699-2434.
Monday, Aug. 19
The Diocesan Health Facilities will be hosting the Twelfth Annual Golf Classic to benefit the more than 900 adults served in its nursing and rehab care facilities and community programs at LeBaron Hills Country Club in Lakeville.
Participation opportunities include corporate sponsorships, golf foursomes, prize donations for raffles, advertising on tee signs and in the event program booklet, and much more.
For additional information on the various levels of participation, call Diocesan Health Facilities Office at 508-679-8154. Online registration is available at www.DHFGolfClassic.eventbrite.com.
Thursday, Sept. 12
The residents of The Branches Of North Attleborough present its second annual Vendor Fair to benefit the Alzheimer's Association.
This is a free event for the whole family filled with food and fun, with local farmers market and craft vendors entertainment, refreshments, raffles,prizes, and more. 
For more information or to reserve a table, call the Branches at 508-455-4095.
Saturday, Oct. 5
The 10th annual PAR 4 PETS Golf Tournament will be held at Chemawa Golf Course. Registration will be at 8:30 a.m. with a shotgun start at 9 a.m. Cost is $120 and includes 18 holes golf cart, buffet lunch, gift bag, and more. All proceeds benefit the North Attleborough Animal Shelter. For more information, visit www.fnaas.org.