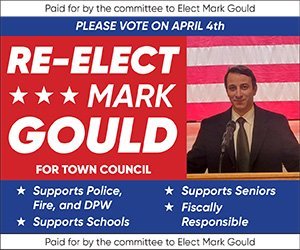 Advisory remains in effect for bass at Falls Pond
An advisory for elevated mercury levels in large mouth bass remains in effect, according to local health officials.
Anne-Marie Fleming, director of the Board of Health, said there is no clear source for the mercury found in the fish in early July. Normally, she said contaminants can be washed into a body of water, which then gets into plants, and then these are eaten by the fish.
According to information sent by the Massachusetts Department of Public Health, mercury levels in the fish tested from Falls Pond were compared to the guideline level of 0.5 parts per million (ppm). The mercury levels detected in largemouth bass were above the DPH guideline value and thus the regular consumption of these fish may pose a potential health concern. The advisory, which went into effect in early July, was for large mouth bass only, and recommends that pregnant women, children under 12, mothers, and women of childbearing age who may become pregnant not eat the fish. All others should limit their consumption of the fish to twice a month.
"It's not that bad, just a little more than what's considered safe," said Fleming of the mercury levels.
The pond is tested regularly for E. coli and other kinds of bacteria. A spokesperson for the Mass Department of Public Health said that the advisory will remain for some time, that it is very persistent and bio-accumulates in fish.
But with the fish issue addressed, what of the rest of the pond? When asked about this, Fleming said it was safe to swim in.
"I'd say no problem, as long as the numbers for E. coli are good," she said.