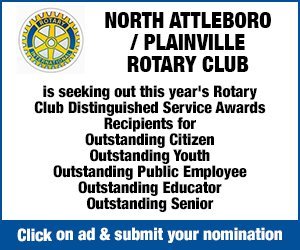 Athlete Profile – Owen Nassaney
By Max Bowen
max.bowen@northstarreporter.com
Whether he's setting new records on the field or mentoring younger athletes off it, Owen Nassaney has certainly made his mark in North Attleborough athletics.
The North Attleborough High School [NAHS] senior is only a few weeks away from graduation and has his course already charted: majoring in marketing at Connecticut's Sacred Heart University and being part of the school's track team.
What made you want to pursue sports?
My family, both my parents were really involved in sports and as a kid I was encouraged to try many different things. So I started off playing many different kind of sports and certain areas I found out I was pretty athletic, and eventually it kind of drew me in the direction of track, which I started in middle school.
I played basketball up until last year and I was on varsity.
Why did track stand out from the other sports you played?
It was kind of a tough decision for me, but once I found out I had an opportunity to go and start doing track in college, I thought it would be better to have an extra season under my belt, so that's why I did track in the winter this year.
I do high jump, long jump, and I'm a sprinter too.
I've heard you've set a few records while on the track team. What were these?
I got the indoor school record in high jump, I jumped 6′ 10". This past weekend we broke the relay record for the 4×2, we beat it by a second or so. I was pretty excited.
How do you train for this?
Over the summer I was working out with a personal trainer. We were working on a lot of plyometric stuff and a lot of explosive exercises and that helped me lean up. My diet, I just kind of eat whatever. Days before a meet I try to eat healthy and drink a lot of water.
What's next for you after you graduate NAHS?
Next year I'm attending Sacred Heart University, which I'm excited about. When I signed, I was jumping 6′ 4" and by the end of the season I was jumping 6′ 10", so that's a big increase and coach was really excited for me. I can't wait for next year.
I don't know what to expect, but I think it'll be great being part of a team, so that'll be a family sense right there, so I'll be hanging with them a lot. I think I'll fit in pretty nicely. They seemed really nice when I had my overnight there. When you're getting recruited they have you visit campus a few times and you can have overnight visits.
What will you be majoring in?
I want to major somewhere in business, somewhere in marketing. My mom and dad are both in business and marketing seems really interesting. It seems there are many different aspects to it and I want to incorporate some of my creativity to marketing other businesses.
My parents always stressed the value of education, they were always on me to keep my grades up. They kind of just give me free reign, they don't try to guide me onto a specific path.
What lessons did athletics provide for you?
Always just try to work hard. There's always little things to improve. High jump is really technical, and there's always small things you can work on, like your approach. Even the smallest change can really help you in the long run.
I've heard your something of a leader to your teammates.
I'm always trying to cheer my teammates on, find out how they're doing and how they've done. They know if they have questions they can come to me.
What are some of the challenges someone new to the track team might face?
I would say trying to find their place. In track, there's so many different types of events, it's hard going in as a freshman not knowing what to go into. If I see a kid that has potential somewhere I'll say 'you'd be really good in this area, because you seem to have good mechanics or jump well.'